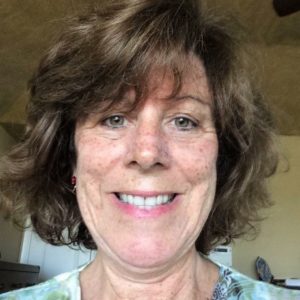 Leslie is a pastor, spiritual director and recent missionary to Belize. She co-pastored First Presbyterian Church of Freeport, TX along with her husband, Lee for three years, and pastored the multicultural Pilgrim Church of Beverly, MA for thirteen years. Among her many pastoral duties she preached, led small groups, and mobilized ongoing prayer. She specializes in women's ministry, healing from abuse, mentoring, and giving spiritual direction to women seeking to deepen their faith in Christ.
She is a retired reservations/sales agent with Delta Air Lines having worked in Boston, MA for more than seventeen years.
She is presently serving God in Belize with her husband, ministering in multiple capacities such as mentoring college students, working with ex-prisoners, counseling female survivors of abuse, and assisting with Emerge: a Literacy & Discipleship Program for grade school children.
Leslie earned her B.S. at the University of New Hampshire, and her M.Div. and D.Min at Gordon-Conwell Theological Seminary.
Leslie is also a trained spiritual director having received her certification through the Listen Course, an eighteen-month training program in Andover, MA.
She authored Accepted in the Beloved: A Devotional Bible Study for Women on Finding Healing and Wholeness in God's Love.
Leslie is co-founder of Life Together International along with Patti Ricotta.
She is also LTI's secretary and Spiritual Director.
She enjoys exercising, photography, reading, traveling, studying and contemplating God's word.
Her passion is to encourage God's children to know and experience the amazing unconditional love of Christ so that they can develop and use their God-given gifts to fully and freely love and serve God.